Medical Oncologist Dr. Tanmoy Mukhopadhyay MD, MRCP (UK), FRCP (Edin.), FRCR (UK), CCT (UK) is a Senior Consultant to Apollo Gleneagles Cancer Hospital in Kolkata. He is recognized as one of the Kolkata's leading experts in the treatment of cancer using the latest techniques. Dr. Mukhopadhyay has a distinguished academic career and more than ten years experience in the National Health Service (NHS) in UK.
Cancer specialist Dr. Tanmoy Mukhopadhyay is an expert on the use of Radiation Therapy and chemotherapy for the treatment of cancers. Dr. Mukhopadhyay as a Medical Oncologist has special interests towards improving cure rates in cancer whilst reducing the side effects of therapy.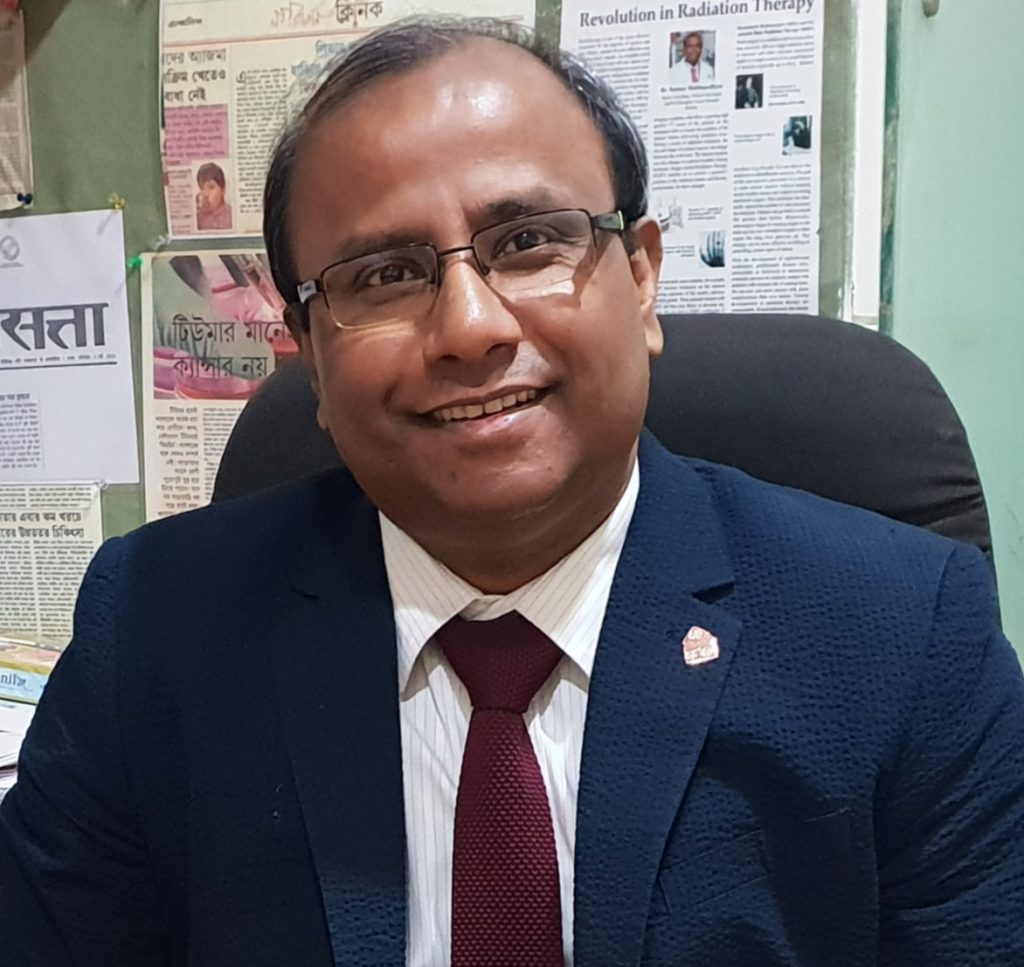 Professional Qualifications
MD (Medicine, IPGME&R), MRCP (UK), FRCP (Edin.), FRCR (Radiation Oncology, UK), Post-graduate Diploma (Pg. Dip.) in oncology, University of Liverpool, UK, CCT (Clinical Oncology, UK).
Experience
Senior Consultant in Clinical Oncology at Apollo Gleneagles Cancer Hospital, Kolkata, 
Former Consultant in Clinical Oncology in National Health Service (NHS),   UK
More than 10 years experience in the United Kingdom (UK)
Speciality
Clinical Oncology (Radiation and Chemotherapy)
Areas of Specialization
Stereotactic Radiosurgery and Radiotherapy
Intensity Modulated Radiation Therapy (IMRT)
Image Guided Radiation Therapy (IGRT) 
Chemotherapy and Targeted Treatment
Major Achievements
Presented research work in different international conferences.
Obtained Gold Medal and many awards in medical career.
Professional Memberships and Fellowships
Member of Royal College of Physicians (UK)
Fellow of Royal College of Physicians (Edinburgh)
Fellow of Royal College of Radiologists (Faculty of Clinical Oncology), UK
Visiting Fellow in Radiosurgery at University of Rochester Medical Center, New York, USA
Member of International Stereotactic Radiosurgery Society (ISRS)
Member of American Society of Clinical Oncology (ASCO)
Member of European Society for Therapeutic Radiotherapy and Oncology (ESTRO)
Member of Association of Radiation Oncologists of India (AROI)
Member of Association of Physicians of India (API)